Welcome to PoetryAbacus : an all-in-one passion for poetry

Last Update :
Tue, March 29, 2016 2:26 PM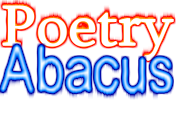 ---
| EDUCATIONAL, INSPIRATIONAL | CREATIVE, IMAGINATIVE | CLASSIC, ROMANTIC | LITERARY, CONTEMPORARY |
Copyright © Okpara C. Okechukwu D. All Rights Reserved.
|2006|
Stark Love
Love is like gravity,
Holding our hearts in place;
Without it our hearts would be weightless,
Making no sense at all.
Love is somersaulting not.
A desirable sweet feeling,
On whose forgiving force we're powered.
An efficacy keeping hearts intact.
Love is naked overwhelming;
Touching lives in many saving ways;
Clearly seen yet a mystery.
The heart's nuclear reactor.