Welcome to PoetryAbacus : an all-in-one passion for poetry

Last Update :
Tue, March 29, 2016 11:17 AM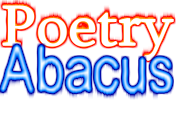 ---
| EDUCATIONAL, INSPIRATIONAL | CREATIVE, IMAGINATIVE | CLASSIC, ROMANTIC | LITERARY, CONTEMPORARY |
Copyright © Okpara C. Okechukwu D. All Rights Reserved.
|2006|
Immaculate Maiden
Her definition lies in her gorgeous conducts.
Description of an angelic princess look she wore.
Her carriage is one with perfect moves;
Negotiating the coordinates of heaven,
Like a beauty conceived there.
Her presence a healing entrance reign.
Favoured are those that her kisses visit.
An excellently moulded gold-looking artwork;
Carved out from the finest acme of artistic passion.
Designed by the most potent eyes;
With blissfully woven smiles on a gracefully sculptured face.
With the happiest keys of joy dangling in her every smile.
Her love, righteously infectious.
Her footsteps, ways of success.