Welcome to PoetryAbacus : an all-in-one passion for poetry

Last Update :
Tue, March 29, 2016 11:15 AM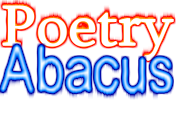 ---
| EDUCATIONAL, INSPIRATIONAL | CREATIVE, IMAGINATIVE | CLASSIC, ROMANTIC | LITERARY, CONTEMPORARY |
Copyright © Okpara C. Okechukwu D. All Rights Reserved.
|2006|
The Indomitable Heart
I won't let me be broken hearted,
Even though 'tis easy to get into my heart.
Stitches for a broken-heart?
That heartbreak is definitely not mine.
I won't go anywhere near defeat,
Even if you choose not to stay away.
Because of your deceit,
My heart and I will always intact stay.
I'll protect my feelings from those of yours,
And from your manipulations.
My heart won't accept your heart-based bruises,
Including you.
Being used is a threat to me,
I'm not used to being used.
Being used is a custom I'm not accustomed to,
'Tis neither for me nor for my heart.