Welcome to PoetryAbacus : an all-in-one passion for poetry

Last Update :
Tue, March 29, 2016 11:12 AM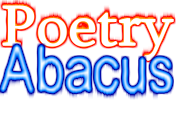 ---
| EDUCATIONAL, INSPIRATIONAL | CREATIVE, IMAGINATIVE | CLASSIC, ROMANTIC | LITERARY, CONTEMPORARY |
Copyright © Okpara C. Okechukwu D. All Rights Reserved.
|29/02/2016|
Spirit's Kiss


Parameters beyond the scope of her heart
Landed us in fact in infatuation's vat.
On seabed of care she increased her worth so dear
With her platonic salad of fascinating veer.
Her love never learned failure
A chaste cosmic desert adorned in romance tailor.
Pureblood paradise salts on her shores of kisses invoice
A belief of "forever yours" in her pearling mavis voice.
Let it be as the heavens fell from above
On forces of death buried by our flowering love.
On creamed loving wings of our brutal engagement
Came our nuptial token of gratitude cent.
Love's wedding day pasted on sweet brits
And the celebration passions of our breast-feeding spirits.
An outlook of a glial tissue bond of lovers reflexes
Yes a kiss of bliss outlasting eternity's treatise.