10/02/2016 (climax)
I love you so bad that I have to let you go for good.
Greatest treasure of pleasure, a seizure at full measure.
Energetic tension on pension love in orgasmic suspension.
Welcome to PoetryAbacus : an all-in-one passion for poetry

Last Update :
Tue, March 29, 2016 11:07 AM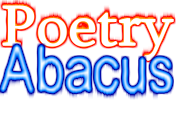 ---
| EDUCATIONAL, INSPIRATIONAL | CREATIVE, IMAGINATIVE | CLASSIC, ROMANTIC | LITERARY, CONTEMPORARY |
Copyright © Okpara C. Okechukwu D. All Rights Reserved.
|2006|
My True Love
The tender vitamin in my kisses
The blown kisses in my wishes
The burning wishes in my dreams
The beautiful dreams that wake my sleep
The successful sleep that cultured my heart
The pure heart that destined my feelings
The passionate feelings in my eyes
The adorable eyes of my belief
The sincere belief of my soul
The gentle soul of my romance
The charming romance in my spirit
The companion spirit of my words
The precious words of my love
The real love nourishing my essence