Welcome to PoetryAbacus : an all-in-one passion for poetry

Last Update :
Sat, April 2, 2016 9:51 PM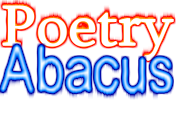 ---
| EDUCATIONAL, INSPIRATIONAL | CREATIVE, IMAGINATIVE | CLASSIC, ROMANTIC | LITERARY, CONTEMPORARY |
Copyright © Okpara C. Okechukwu D. All Rights Reserved.
|14/03/2009|
Your Mother's Questions
Do you have a mother?
Is she lovely?
Does she take good care of you?
And do you miss her?
Do you want her to go away for a long time?
Do you enjoy upsetting her?
Do you want her to stop buying you snacks?
And buy you beautiful toys?
Was she present at your birthday celebration?
Does she sing lullaby for you?
Does she tickle you?
And make you happy?
Can you show her how strong you could be for her?
Have you told her how smart you are?
Does she know you do your homework right?
And when was the last time you said, "mum I'm sorry"?
Have you told her that you love her?
Do you wish her well?
Do you try not to offend or annoy her?
And do you do the things she asks you to do?
Does she know all about these questions?
Could you tell her that you have answered them?
Is she aware of these answers?
And were you correct?