Welcome to PoetryAbacus : an all-in-one passion for poetry

Last Update :
Fri, April 1, 2016 9:54 PM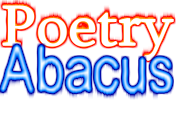 ---
| EDUCATIONAL, INSPIRATIONAL | CREATIVE, IMAGINATIVE | CLASSIC, ROMANTIC | LITERARY, CONTEMPORARY |
Copyright © Okpara C. Okechukwu D. All Rights Reserved.
| 21/05/2010 |
You And I Are Friends


You're a girl, and you have a friend,
And your friend is a girl,
And she calls you her girlfriend.

I'm a boy, and I have a friend,
And my friend is a girl
And she calls me her boyfriend.

Friends of our friend, to our friend,
Your friend dear my friend,
You and I are friends.