Welcome to PoetryAbacus : an all-in-one passion for poetry

Last Update :
Fri, April 1, 2016 9:27 PM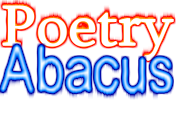 ---
| EDUCATIONAL, INSPIRATIONAL | CREATIVE, IMAGINATIVE | CLASSIC, ROMANTIC | LITERARY, CONTEMPORARY |
Copyright © Okpara C. Okechukwu D. All Rights Reserved.
|2010|
My Beloved Home
A place nature chose to hide its greatest gifts.
A place cyclones and typhoons don't visit.
A place earthquake doesn't know.
Place volcanoes don't dream of.
A place where genocides or terrorism has no allies.
A place experienced tornadoes and gales never tested.
A place ethnic clash knew a century ago.
A place that respects and makes enemies friends.
A place floods and heavy snow are afraid to occur.
A place where famine don't thrive.
A place in love with happy moments.
A place this poetry is glad to explore.
A place God has blessed.
A place that signals me home.