Welcome to PoetryAbacus : an all-in-one passion for poetry

Last Update :
Fri, April 1, 2016 9:23 PM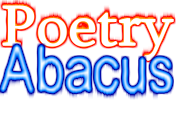 ---
| EDUCATIONAL, INSPIRATIONAL | CREATIVE, IMAGINATIVE | CLASSIC, ROMANTIC | LITERARY, CONTEMPORARY |
Copyright © Okpara C. Okechukwu D. All Rights Reserved.
|2010|
The Grumbling Ball
They kicked me hard on my stomach, laughing.
They ran after me like a mob, shouting.
They chased me and I banged my head on the basement, jeering.
They trapped me beneath their heavy spiky boots, whistling.
They caught me and took me up like a slave, instructing.
They threw me up fifteen feet and let me fell on my back, signalling.
They left me in the net as if I meant nothing all along, celebrating.