Welcome to PoetryAbacus : an all-in-one passion for poetry

Last Update :
Sat, April 2, 2016 8:13 PM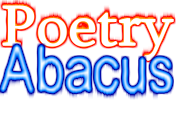 ---
| EDUCATIONAL, INSPIRATIONAL | CREATIVE, IMAGINATIVE | CLASSIC, ROMANTIC | LITERARY, CONTEMPORARY |
Copyright © Okpara C. Okechukwu D. All Rights Reserved.
|29/11/2009|
O Bingo
No Bingo; no!
Do as you were told, don't hurt the ten year old.
Lo Bingo; lo –
Behold, they are holding my gold
Go Bingo; go!
Be bold, my gold won't be sold!
So Bingo; so –
Mould your mood, to them be cold.