Welcome to PoetryAbacus : an all-in-one passion for poetry

Last Update :
Fri, April 1, 2016 9:20 PM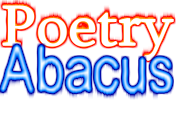 ---
| EDUCATIONAL, INSPIRATIONAL | CREATIVE, IMAGINATIVE | CLASSIC, ROMANTIC | LITERARY, CONTEMPORARY |
Copyright © Okpara C. Okechukwu D. All Rights Reserved.
|2010|
The Toddler's Tore
Near the table I was tied,
So that I wouldn't disturb daddy in his room.
Daddy came out of his room,
Dropped something on the table.
He took his briefcase,
And went right back.
I walked, fell, and crawled, then picked it up,
" 'twas nice to my eyes!"
I took it, looked at it, shared it to my hands both,
Lost stamina, and staggered.
Daddy appeared like a ghost,
Took everything from me yelling.
Or crying or laughing I don't know, be it both,
"Damn, you just did it, oh my!"
Tie me not near a table, again,
Or I might give you a toddler's tore.