Welcome to PoetryAbacus : an all-in-one passion for poetry

Last Update :
Wed, March 30, 2016 8:54 PM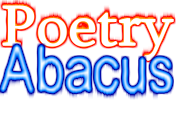 ---
| EDUCATIONAL, INSPIRATIONAL | CREATIVE, IMAGINATIVE | CLASSIC, ROMANTIC | LITERARY, CONTEMPORARY |
Copyright © Okpara C. Okechukwu D. All Rights Reserved.
|2010|
The Royal Thief
With his gun pointing at you, he says:
Could you please give me your money?
Then he looks at you calmly as a nice fellow would and says:
If you do not have any money, can I shoot you?
You aren't old enough to die!
He sees your car and writes you a letter:
Do you mind if I steal your car?
Then as a good salesman he adds:
And sell it, would you not buy?
Half the original price is fair, no interest at all!
He knocks on your door and whispers:
Open up I have got work to do in there, will you?
Then he smiled and purred:
Please dear, won't you let me in?
Robbing in style!