Welcome to PoetryAbacus : an all-in-one passion for poetry

Last Update :
Thu, March 31, 2016 8:05 AM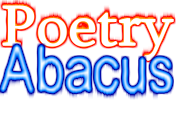 ---
| EDUCATIONAL, INSPIRATIONAL | CREATIVE, IMAGINATIVE | CLASSIC, ROMANTIC | LITERARY, CONTEMPORARY |
Copyright © Okpara C. Okechukwu D. All Rights Reserved.
|2006|
Twelve O'Clock
Hymn this poem at 12 for 'e.
While the Angelus with the' church-bells rhymes.
Build another title for it 'n sin'.
T'o entitled divine.
Believe the holiness of 'tis;
So that it'll appear prime an' ripe.
Noon was when it came 'ere.
Its contents accepted n' liked
With address adhered to an' follow'd.
Sorry home 've left u.
O'r departure turn'd read';
Favour'd by God's signature.
May 'he two sides of 'ur 'our bless us
The first an' second 'n on' 12 O'Clock journ'y.