The source of inspiration is from a poet I met on Facebook (Elegra by name). The original poem was pretty much modified here.
"friends begin where enemies end"
Welcome to PoetryAbacus : an all-in-one passion for poetry

Last Update :
Thu, March 31, 2016 8:18 AM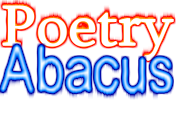 ---
| EDUCATIONAL, INSPIRATIONAL | CREATIVE, IMAGINATIVE | CLASSIC, ROMANTIC | LITERARY, CONTEMPORARY |
Copyright © Okpara C. Okechukwu D. All Rights Reserved.
| 28/05/2010 |
Beginning Ending

Where my friends didn't end
Is simple without bend
With a helping hand
We defend
Our interests fend
Deep thus our enemy offend
Blown in unending winds
Through bond wands
The destiny sounds
Reached our beginning lands
Beginning anew
An ending I knew