This is a Concrete Poetry
Welcome to PoetryAbacus : an all-in-one passion for poetry

Last Update :
Thu, March 31, 2016 8:17 AM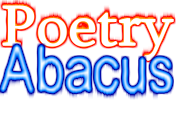 ---
| EDUCATIONAL, INSPIRATIONAL | CREATIVE, IMAGINATIVE | CLASSIC, ROMANTIC | LITERARY, CONTEMPORARY |
Copyright © Okpara C. Okechukwu D. All Rights Reserved.
| 27/05/2010 |
Poetry Vs "Bad Poetry"



Poetry is not poetry that insults itself,
Salt-less, (careless more than we are), meaningless, tasteless
Senselessly invoked,
Slanders or in libel typed.
Make your wars; make your beds, as you must …
Not every tongue knows how to taste,
Yet everyone has a tongue in her lips.
She's a way of life,
with free constitution,
anybody's regulation,
accommodating rules.
She cried: "they are screwing my senses,
corrupting my births": She died?
Two pairs of her poet, I heard:
those called,
those that came,
the uncalled for
then the rest,
those that loved her,
her beloved, her lovers
Have you eaten her prospects?
Do you at her temples worship?
Have you improved her prophets?
Are you into her in relationship?
Poetry is a virtue, but where it is a crime, its maker has sinned!
People could die of its evils;
Our minds, children scared.
What good is it when it disorders
Ours, ourselves and living?
Poetry is not poetry that needs light
Has no fun, or that needs weeding
(a get-rid-off-me tagged)
Where it mourns, should real be drugged?
Poetry is poetry that understands –knows– poetry!